Below you will find: a summary of our Inspire Girls pilot in Kenya, bios of the two teachers leading this pilot, a bio of our Field Associate in Kenya, and a summary of WCE's work in Kenya.
KENYA: Inspire Girls teachers Jackline in Amalo, Kenya and Amanda in Dedham, Massachusetts have agreed that they will have their 16-17 year old students meet via Google Hangout from each other's classrooms once every 2 weeks. They have prepared a survey of their participating students. The USA class will meet just before the school day and the Kenya class just after the school day. The USA students will be mostly girls and the Kenya students will be more of a mix. They are beginning by having their students become familiar with the 5 Inspire Girls teacher resources and then have the students meet each other, share about their respective schools and communities. In the second call they will share about what are family, cultural, and community expectations with regard to girls pursuing careers in technology. In the third call they will select the teacher resource that they want to work on together.  Their students have the option to make a change to the WCE list if they think of a better resource for teachers in Africa to inspire girls to pursue careers in technology.  The students will determine how to archive the conversation and place them on YouTube.  This pairing is being assisted by Anna Pearson, a business mentor, and by Sila Too, WCE Field Associate for Kenya.
Jackline Koech is an English and Literature teacher at Moi Secondary School in Amalo, Nakuru County, Kuresoi Sub-County in Kenya. She has taught for the past six years. She teaches students who are 14-16, 15-17, and 16-17 years old. I earned her undergraduate degree from Kenyatta University. She earned her Master's degree in Educational Psychology in the same university and graduated in 2014. She has participated with connecting classrooms through the British Council and has a partner school in Birmingham, a program we had early this year. She is the mother of a young daughter. She and her students are excited to be working together on a teacher resource with Amanda Harnden and her students from Dedham High School in Massachusetts USA.
Amanda Harnden is a Physics teacher at Dedham High School in Massachusetts where she has taught for eight years. Before university, she attended Diman Regional Technical High School in Fall River, Massachusetts where she majored in Precision Machining. During her time in high school she worked at an engineering company (Sapphire Engineering) as a CNC machine operator, and at Johnson and Johnson as a Quality Control technician. She has her Bachelor's degree in Professional Physics with a minor in Mathematics from Bridgewater State University where she also earned her Master's of Arts in Teaching in Physics from Bridgewater State University. She is married. She and her 17 and 18 year-old students are excited to work on the Inspire Girls pilot of World Computer Exchange with Jackline Koech, a teacher at Moi Secondary School in Amalo, Kenya and her students.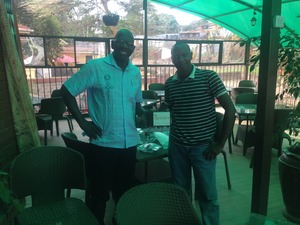 Sila Too: WCE's Field Associate in Kenya. He represents WCE in Kenya and is moving toward developing a WCE Chapter in Nairobi. They may offer fee-based repair warranties for WCE computers shipped to Kenya. He is currently a System Librarian and a part-time lecturer at Moi University where he performs and/or oversees software and application development, installation, and upgrades for the University Library and other office use. He is the country coordinator for Electronic Information For Libraries. He is the assistant coordinator at the American Space at Moi University. He also plans, deploys, and rebuilds Linux servers and configures hardware, peripherals, services, settings, directories, storage, etc. He has also installed several eGranaries at university locations. He teaches technical courses such as Operating Systems, System Analysis and Design, Introduction to Computing, and Databases.  He believes that as a lecturer, his most important role in the classroom is to ensure the students understand the material, as well as feel like they belong to an open environment where they are comfortable asking questions and facilitating discussion. He is also a Field Associate for Widernet, a WCE Strategic Ally. He heard about WCE through the Widernet-eGranary network, where a client had been referred to Widernet through WCE. This led him to learn more about WCE, and connect with our mission. He believes that media provides a lot of information and a platform for sharing resources all over the world. Media covers diverse spans of locations where beneficiaries can learn from one another, to teach each other and to provide feedback for solving critical issues. Media enriches learning. He received his Bachelor of Science in Software Engineering and Development from Kenyatta University. He is currently completing a Master of Science in Information Technology. Besides this he has certificates in Oracle database Administration, Linux System Administration, and Networking.
WCE Context in Kenya: World Computer Exchange is interested in sending our 11th shipment of refurbished computers loaded with educational content to Kenya. Because of Kenya's high customs duty on the importation of used computers we also offer new NComputing thin client equipment. Our computers are preloaded with English versions of Linux Xubuntu operating system to avoid viruses, Libre/Office suite, Edubuntu, and our content pack of education, environment, agriculture, technology and health. WCE has heard interest from 274 groups in Kenya. WCE is seeking a Sponsor to cover some of the costs for our next shipment. This Sponsor will help reduce the match paid by our Partners in Kenya. iEARN–Kenya has agreed to provide teacher training for recipients of the next WCE shipment. WCE is seeking participation of US Peace Corps Volunteers in Kenya as they have in 17 other countries. WCE has a philanthropic partnership with New Horizons Computer Training Centers that has Centers in Kenya that will hopefully offer tech training as they have with us in many other countries. Previously, WCE has shipped 1,489 refurbished computers in 10 shipments to 77 schools and centres in Kenya to connect 120,995 youth over the years. WCE has sent an eCorps tech team to help troubleshoot and train recipient groups. The Modesto Rotary Club in California helped to fund our first shipment to Kenya. The Strategic Group was corporate Sponsor of one of our shipments to Kenya. WCE Development Officers for Kenya: Robert Karuga Kariuka, Wambui Kinya, Kiragu Maina, Jonathan McLean, Vincent Ndhlovu, Elizabeth Njendu, Carole Roberts, Semra Seifu, Yvonne Swain, and Henry Thairu. WCE Field Associate in Kenya: Sila Too. (last updated: October 2017)