WCE is seeking an English-speaking high school teacher and students from outside of Africa to work with the teacher (and students) below to co-develop a resource for African teachers who are interested in inspiring girls to pursue careers in technology. Below you will see the bio of the teacher in Zimbabwe and a bio of our Field Associate in Zimbabwe and a summary of WCE's work in Zimbabwe.

Pretious Chindudzi is an ICT teacher at Seke 1 High School in Chitungwiza, Zimbabwe. This school has 1,271 girls and 1,000 boys enrolled in two shifts and operates under enormous pressure for resources including ICTs. She also is responsible for the technology in the school. Our Field Associate leads World Links Zimbabwe that has helped them set up their computer lab and modernized their ICT equipment. She earned a degree in Bachelor of Business Management & Information Technology from Catholic University in>Zimbabwe in 2008. She has seven years experience teaching computer studies. She and her students are eager to be paired with an English-speaking high school teacher and students from outside of Africa.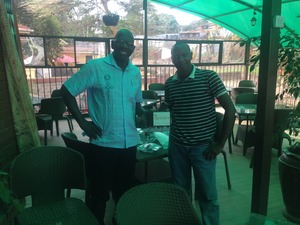 Eliada Gudza: WCE Field Associate in Zimbabwe. He represents WCE in Zimbabwe and is moving toward developing a WCE Chapter in Harare. He is Site Manager for the WCE Inspire Girls pilot in Zimbabwe. He is affiliated with iEARN-Zimbabwe. As part of this pilot, iEARN-Zimbabwe is also co-developing one of their multi-country online student learning projects around Inspire Girls with other recipient iEARN affiliates in Ghana, Liberia, Mali, and Zambia. He is a prior recipient of computers from WCE. He provided his facility and tech staff to assist a WCE eCorps Team that visited Zimbabwe. He has been the Executive Director of World Links Zimbabwe for 12 years. He was previously working on curriculum at the then Ministry of Education, Arts, Sport and Culture, Zimbabwe and before that for 9 years he was at Nashville High School for 9 years. He attended the University of Nottingham for Mathematics and ICT.
WCE Context in Zimbabwe: In November 2017, our Field Associate, Eliada Gudza, and one of our Development Associates, Zeddy Chirombe, will meet in Harare to plan our next container. WCE has heard interest from 139 groups in Zimbabwe. WCE has arranged for iEARN-Zimbabweto provide teacher training to recipients. Read more about our project with iEARN.
WCE arranged for the local franchise of our global corporate supporter New Horizons Computer Training Centerswith centers in Harare and Bulawayo to provide training for staff and teachers from the recipient schools. Previously, WCE has sent three shipments totaling 508 computers to 24 schools connecting 42,200 students over the years. The consignees for our recent shipments were the Information Communications Technology Association of Zimbabwe and World Links Zimbabwe. A WCE team of volunteers led by Zeddy Chirombe and Dr. Solomon Masenda gathered Sponsors for our most recent container. You can read more about this shipment here.
In late 2011, WCE sent aneCorps Zimbabwetech training team. Both the shipment and eCorps were underwritten by a generous individual Sponsor, Disque Deane, who supported this to ensure access for girls in Zimbabwe. Zimbabwe was the first of country piloting the first phase of the WCE Inspire Girls Initiative.
Eliada Gudza has recruited a high school teacher and students to be one of six pairings with schools and students in the USA. Each pair will work to develop one of five resources for teachers interested in inspiring girls to pursue careers in technology.
We are currently recruiting a high school teacher in the USA interested in being paired with the Seke High School. WCE Development Officers for Zimbabwe: Itayi Zeddy Chirombe, Aaron Kanengoni, Bob Klepper, Denboy Kudejira, Solomon Masenda, Tinei Mutsago, Vincent Ndhlovu, Dumisani Nyoni, and Nicholas Sundire. WCE and Widernet, one of our Strategic Allies, share a Field Associate in Zimbabwe: Eliada Gudza of World Links Zimbabwe and iEARN.